Size 3X ONLY
Made from abrasion resistant deerskin
Unrivaled fit, comfort, and dexterity
Designed to fit both Men and Women.
The Men's DeerTours Motorcycle Gloves are one of our best selling motorcycle gloves.
Designed by a professional motorcycle rider, these motorcycle gloves are an ecstatic marriage of form and function. You can feel what you are doing - dig in your pocket for keys and change or adjust a carburetor.
Anyone who has gone down palm first will appreciate the extra padding that in no way limits your dexterity.
Every time I put these motorcycle gloves on there is always a brief moment of appreciation... Grateful that someone took the time to design and make something this nice. I flex my fingers inside the soft leather and a little voice inside me says, "It's not too late to be a contender on the racing circuit."
Don't know your Size? Download and print the DeerTours Size Chart here.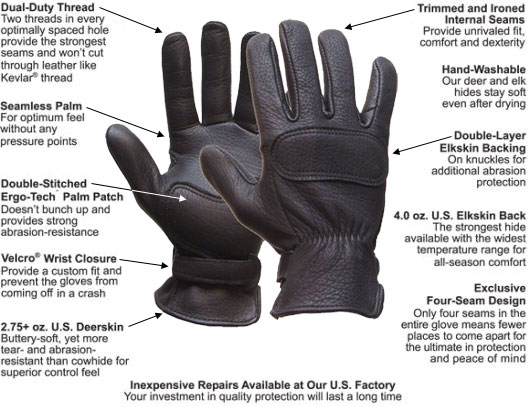 To read "The Four Dirty Secrets Glove Manufacturers Don't Want You to Know" click here.
International Orders Only: Wildlife leather products including deerskin, buffalo and elkskin for delivery outside the USA will incur additional handling charges of $30 and a delay of about 1 month due to Export Handling mandated by US Dept. of Fish and Wildlife.
Fox Creek Leather Lifetime Guarantee:
Covers Snaps, Zippers, Grommets and Seamwork (excluding liners) in our Leather Vests, Jackets, Chaps and Overpants for the original purchaser.
Does not cover damage due to accident, neglect* or abuse.
Full Grain Leather displays range marks and scars that make each item unique. These scars are NOT defects and only add to the richness and story of the product.
The grain of each hide varies from animal to animal so texture will vary from one item to the next.
*Leather requires regular maintenance and care to remain strong, supple and beautiful.