DeerTours Motorcycle Gloves
Motorcycle Gloves
Motorcycle Gloves
Product Description
Made from abrasion resistant deerskin
Unrivaled fit, comfort, and dexterity
Designed to fit both Men and Women.
The Men's DeerTours Motorcycle Gloves are one of our best selling motorcycle gloves.
Designed by a professional motorcycle rider, these motorcycle gloves are an ecstatic marriage of form and function. You can feel what you are doing - dig in your pocket for keys and change or adjust a carburetor.
Anyone who has gone down palm first will appreciate the extra padding that in no way limits your dexterity.
Every time I put these motorcycle gloves on there is always a brief moment of appreciation... Grateful that someone took the time to design and make something this nice. I flex my fingers inside the soft leather and a little voice inside me says, "It's not too late to be a contender on the racing circuit."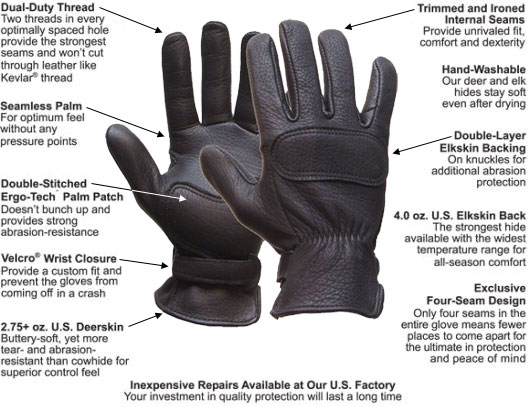 To read "The Four Dirty Secrets Glove Manufacturers Don't Want You to Know" click here.
International Orders Only: Wildlife leather products including deerskin, buffalo and elkskin for delivery outside the USA will incur additional handling charges of $15 and a delay of about 1 month due to Export Handling mandated by US Dept. of Fish and Wildlife.
Warranty Information
This Item is NOT cover under our Lifetime Guarantee.
Other Details
sizeChart:
/gloves-size-chart/
checkboxText:
Free shipping to USA. Usually ships within 24 hours.
checkboxText:
*$15 Extra Handling for International Orders*
Product Reviews
Write Review
Showing reviews 1-10 of 34 | Next
Sweet pair of gloves

Posted by Wilton Murphy, Jr. on Mar 29th 2018

Had my gloves for a couple weeks now and about 1000 miles, they just keep getting better. They were a little hard to get on at first but once on the fingers were perfect for my smaller hands, the feel is exceptional, don't have to pull them off for most tasks and they are so soft and comfortable and with the elk & deer skin mix you know they will hold up & do their job if needed The size chart really works!

Get A Grip!

Posted by Dillbilly on Feb 27th 2018

I'm usually hard to fit with gloves. My hands are big and glove makers are notoriously prone to make gloves smaller than they should. I pulled on a pair of XL Deer Tours and instantly knew they were going home with me. The leather has just the right amount of stretch and flex in it. This allows a close fit (snug to pull on) which results in great feel and dexterity. Can you feel pride toward your gloves? The answer is yes, when they are as sweet as the Deer Tours. Don't hesitate...buy these.

Commanding Comfort

Posted by STEPHEN J MARTIN on Feb 13th 2018

A terrific solution when riding weather doesn't demand heavy, bulky gloves for extreme cold; yet much more than a thin cruiser-type glove. An extremely soft, classy look and feel for the purist. Great protection that keeps you in touch with the machine.

Deer Tours MC Gloves

Posted by Ilene Kramer on Dec 27th 2017

The fit is great. The leather is soft, but I am able to grip my bike with ease and no slippage. Would totally recommend these to any biker.

Great !

Posted by Hawg on Jun 15th 2017

The sizing chart was a perfect fit for my hands, it was a little snug initially to put on, but broke in quickly. Very comfortable and durable.

Perfect!

Posted by Steve on Jun 2nd 2017

These gloves fit so well. Nothing like USA quality!
I used the Glove size chart and made sure it was calibrated (4 inch line) correctly and did the two measurements per instructions. This is the key to the perfect fit.

Awesome

Posted by Mark Vinson on Apr 19th 2017

These are my second pair as I somehow lost one of my first pair over the winter - didn't even think about looking at any other gloves, just ordered another pair of these - the fit is perfect, they hold up great and are the most comfortable gloves I have ever worn

Wow!

Posted by JWrightsman on Feb 16th 2017

Nice gloves. I'm sorry I waited so long to order them. Well made, great fit, very soft. My poor cowhide glove made by a well know US MC company do not compare. You make leather underwear? (just Kidding!)

Great gloves

Posted by Unknown on Nov 10th 2016

Gloves came in very soft and comfortable. I love them I will definitely be buying more from Fox Creek in the future

It must just be me...

Posted by Unknown on Sep 24th 2016

I used the sizing template and since I was between a medium and a large, I opted for the large. Couldn't even get my hand started into the cuff. Sized up to the XL and they fit perfectly.

Sizing weirdness aside, these gloves perfect. Well worth the $ and deserving of 5 stars.
Showing reviews 1-10 of 34 | Next
Find Similar Products by Category