DeerTours Motorcycle Gloves
Motorcycle Gloves
Accessories
Product Description
Made from abrasion resistant deerskin
Unrivaled fit, comfort, and dexterity
Designed to fit both Men and Women.
The Men's DeerTours Motorcycle Gloves are one of our best selling motorcycle gloves.
Designed by a professional motorcycle rider, these motorcycle gloves are an ecstatic marriage of form and function. You can feel what you are doing - dig in your pocket for keys and change or adjust a carburetor.
Anyone who has gone down palm first will appreciate the extra padding that in no way limits your dexterity.
Every time I put these motorcycle gloves on there is always a brief moment of appreciation... Grateful that someone took the time to design and make something this nice. I flex my fingers inside the soft leather and a little voice inside me says, "It's not too late to be a contender on the racing circuit."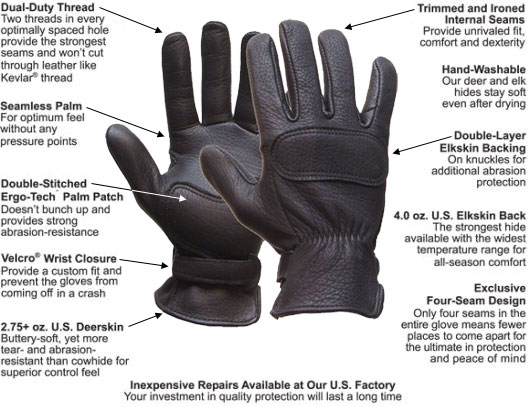 To read "The Four Dirty Secrets Glove Manufacturers Don't Want You to Know" click here.
International Orders Only: Wildlife leather products including deerskin, buffalo and elkskin for delivery outside the USA will incur additional handling charges of $15 and a delay of about 1 month due to Export Handling mandated by US Dept. of Fish and Wildlife.
Warranty Information
This Item is NOT cover under our Lifetime Guarantee.
Other Details
sizeChart:
/deertours-glove-size-chart/
checkboxText:
Free shipping to USA. Usually ships within 24 hours.
checkboxText:
*$15 Extra Handling for International Orders*
Product Reviews
Write Review
Previous | Showing reviews 21-30 of 34 | Next
Fantastic Gloves

Posted by Mike in Maryland on Aug 3rd 2008

I was hesitant at first to buy deerskin gloves, but after 2500 miles in a month wearing the Fox Creek Gloves, all I can say is this top quality product. They fit beautifully and get more comfortable the more you wear them. I just purchased a pair for my father-in-law for his birthday after he wore mine and raved about them. As far as customer service goes, I initially ordered a pair of XL and the gloves were loose in the fingers. I called Fox Creek and they sent me a large pair overnight, no hassles, no waiting until I returned the product.
Bottom line, great product and excellent company.

Awesome gloves

Posted by Jamie Ellis on Jun 24th 2008

I loved these gloves!! They fit so good it didn't even feel like I was wearing them. The quality of the leather is excellent and the construction is well thought out.
I just lost my pair while riding to Port Dover(Friday the 13th)that's why I said "loved" these gloves. I went to my local dealership to see what they had as I needed a new pair and they just don't compare to the quality of the Deer Tours. I will be ordering a new pair from Fox Creek. These gloves are a 10/10.

An exclusive!

Posted by Michael Haas on May 3rd 2008

Riding only a little over a year now, I pulled the classic newbie mistake of buying "everything" I could get my hands on for riding. That includes about 8 pairs of gloves. The DeerTours were among the last purchased. I bought a black pair and tan pair. I have found myself using these gloves exclusively for the past 3 months, they're that different. I feel like I'm more in control of the bike because of the dexterity I have wearing these gloves. If you buy these you won't need 8 pairs.

Great

Posted by Tim N. on Apr 22nd 2008

I've had mine for a few months now, and they feel great. Before I had these gloves, I couldn't even wear gloves.
The less expensive gloves made by Fox Creek lack the wrist velcro, so I chose these.

Fox Creek Leather does it again!

Posted by Karl Graf on Sep 6th 2007


I just got my latest but not last order from FCL. Black DeerTours in XL. Once again I am TOTALLY satisfied. It is obvious that FCL will not stock or sell anything that they would not be proud to put their name on. The gloves fit great, look good and without a doubt would be handy in a crash. So far I have purchased: Vented Racing Jacket, Buffalo Nickel Braided Vest, Fancy Vest Extenders, Small Trucker Wallet with Chain. Heavy Duty Windshield Bag. "The Belt" and the Perforated Gel Fingerless Gloves. I have been 100% satisfied with them all with the exception of the Fingerless Gloves. I had issues with the stitching on them. All-In-All I will not shop anywhere else. If I need it and FCL does not carry it I will wait until they do or simply do without.


Thanks Fox Creek Leather. You do business the way business should be done!!


Best gloves I've tried!

Posted by Tim Tritt on Mar 31st 2007

I bought the Tan Deer Tours, and have worn them for just over 2,000 miles in mild to warm weather, here in Oklahoma.
I really love the feel of the gloves and my hands stay fairly cool even in warm ( 80deg F ) weather.
Very comfortable and I really like the velcro strap. Worth every penny in my book!

Deer Tour Gloves

Posted by James Rutledge on Dec 7th 2006

I have had my Deer Tours now for 1 full riding season and I must say they are wonderful. The fit and feel are better than any glove I have tried on. They are great looking, top quality gloves and I can literally feel the controls of my motorcycle with them on. Great looks, great protection, great product - you will NOT be disappointed with these gloves.

DeerTours Gloves

Posted by Tom Willis on May 31st 2006

I really could not have appreciated the quality and feel of my new gloves without putting them to work. They are fantastic, and you can immediately tell the difference between quality and economy. My physician is a bike rider and he highly recommends gloves at all times (he has picked out his share of asphalt in the ER). I would also highly recommend the DeerTours and plan to always have a pair on hand! Fox Creek is the best at price, guarantee, and service. Thanks a million!

They're comfy.....but,

Posted by fredrok on Apr 10th 2006

These are some of the most comfortable gloves I've worn. My wife bought them as a present sometime back and obviously did a good job selecting them. However, I have one issue with them. Anytime my hand sweats bad or I get the gloves wet while wearing them, my hand turns black. Must be the dye in the leather, but either way, it's a bit of a nuisance and will not immediately wash off.

Pleasantly surprised

Posted by Jay Hart on Jan 24th 2006

After reading reviews about how soft and supple these gloves were, I had a difficult time deciding to buy them. I mean… I'm the kind of guy who wants the thick tough macho leather protecting him, not soft sissy leather these gloves sound like in the reviews.
In just a few months and 6000 miles later, these gloves have changed my mind about what I need in a glove for protection. I still have to remind myself that these seemingly thin gloves will protect me better than thicker cow skin, but I'm now able to enjoy all the dexterity and control that I was depriving myself of.
I no longer loathe toll booths. Getting the ticket, your wallet, and money from your pocket is not the chore it once was. I can do it all with the gloves on!
Find Similar Products by Category