DeerTours Motorcycle Gloves
Motorcycle Gloves
Accessories
Product Description
Made from abrasion resistant deerskin
Unrivaled fit, comfort, and dexterity
Designed to fit both Men and Women.
The Men's DeerTours Motorcycle Gloves are one of our best selling motorcycle gloves.
Designed by a professional motorcycle rider, these motorcycle gloves are an ecstatic marriage of form and function. You can feel what you are doing - dig in your pocket for keys and change or adjust a carburetor.
Anyone who has gone down palm first will appreciate the extra padding that in no way limits your dexterity.
Every time I put these motorcycle gloves on there is always a brief moment of appreciation... Grateful that someone took the time to design and make something this nice. I flex my fingers inside the soft leather and a little voice inside me says, "It's not too late to be a contender on the racing circuit."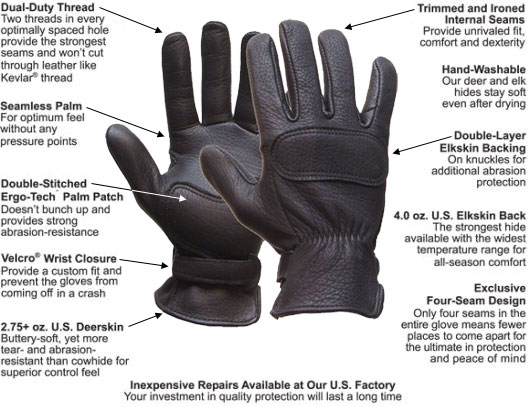 To read "The Four Dirty Secrets Glove Manufacturers Don't Want You to Know" click here.
International Orders Only: Wildlife leather products including deerskin, buffalo and elkskin for delivery outside the USA will incur additional handling charges of $15 and a delay of about 1 month due to Export Handling mandated by US Dept. of Fish and Wildlife.
Warranty Information
This Item is NOT cover under our Lifetime Guarantee.
Other Details
sizeChart:
/deertours-glove-size-chart/
checkboxText:
Free shipping to USA. Usually ships within 24 hours.
checkboxText:
*$15 Extra Handling for International Orders*
Product Reviews
Write Review
Previous | Showing reviews 11-20 of 34 | Next
Super comfortable gloves!

Posted by Jeff wilson on Sep 19th 2016

These gloves are super comfortable because they are soft and supple. They feel like they're brok in the first time you put them on. I highly recommend these gloves for days that are very to cool.

Nice gloves

Posted by Sean Wilson on Jul 16th 2013

I bought these gloves in 2005. They have gone through 40,000 kilometers of riding in cold, wet and sun (sun mostly in Australia). They are a bit faded, but still going strong!

Almost Great

Posted by Steve Metz on May 30th 2013

What all of the reviews say about the softness and flexibility of the deerskin is spot on. These are the only gloves of the 15 or so pairs I own that I can pump gas and resent the fuel gauge on my GPS without taking them off. The elk skin protective layer on the back is nice.

But, I have one issue with them: the opening is so small that it's an annoying struggle to put them on. I wear a large but my hands aren't abnormally big. If the opening was 1/2 or even 1/4 inch larger, the gloves would be nearly perfect.

AMAZING w / heated grips

Posted by Kevin C on Jan 13th 2012

Have used these gloves for a year - great fit - substantial but NOT bulky - they are AMAZING when used with heated grips - good down to approx 45 degrees (below that I use heated gear). I highly recommend them!

Deer Tour Gloves

Posted by Sly on May 28th 2010

I purchased my Deer Tour gloves from Fox Creek Leather on April 7, 2004. When they arrived I started to return them because they looked so flimsy. My wife actually talked me into keeping them so you have her to thank for my review.
Since that day I have traveled over 36,000 miles in them and other than natural fading that resulted from multiple washings and exposure to the sun/rain, there's not so much as a rip or tear in either glove. I'm starting to wonder which one of us will wear out first, me or my gloves?

I hate gloves...until now

Posted by Tony D on Jan 13th 2010

I dislike wearing gloves...a lot. If you look at a group of Wisconsin residents (or "victims") braving the winter cold...I'm the guy with bare hands.
Same holds true for motorcycle gloves. I started riding at the beginning of the summer, and was wearing some old bicycling fingerless gloves for "protection," I realized if I went down--they weren't going to do a thing to save my hands...so I went without gloves. I thought: "better to have no protection but not be annoyed, then a minute amount of protection and have to deal with gloves."
Then, after taking a riders' safety course, where I bought some very cheap motocross gloves because they wouldn't let me on the practice course without full fingered gloves, I decided there was some merit to some proper gloves.
I went to a HD store (I'm a Wisconsinite, I live 15 miles from the HD museum and one of their factories...I don't really have a choice). I cried at the cost (plus the gloves were made in Pakistan).
I found some other "Pakistan" leather gloves at a motorcycle surplus store (at a third the cost of the HD gloves). I wore them twice...the most uncomfortable garbage ever!
I found some gloves at a farm/hardware store. Almost comfortable...then I actually pulled the leather material off of the velcro backing. Garbage.
I got two other pairs from other establishments: garbage.
I stared surfing the web, and read a lot of reviews and looked at a lot of gloves. Every fantastic review seemed to come back to Fox Creek Leather.
I checked out all of their gloves, but kept getting pulled back to the DeerTours. I thought, "Damn, that's expensive," but kept getting drawn back. Well, after a considerable amount of time hee-hawing back and forth (not to mention printing then re-printing the size chart...and a ridiculous amount of time measuring and re-measuring my hand...but always coming up with Medium), I ordered my gloves.
LOVE THEM! They are extremely comfortable, are thick enough to provide me assurance that I will come away from a fall with skin on my palms, and I could actually work the snap on my helmet with the gloves on!
Expensive...hardly, all of the garbage gloves I went through cost more than these remarkable gloves.
I was so impressed with the quality of the gloves I have also purchased: The Wallet, The Belt, a Vented Racing Jacket, and the Leather Overpants.
Thank you Fox Creek Leather!


Like Buttah for your hands

Posted by Brad S on Sep 25th 2009

I don't want to repeat what everyone else has said ( great gloves etc) I only would add that if I ordered another pair, I would get the outside seam type. They fit tightly(which I like) but the seam on the thumb presses against my finger tips . Other than that they are the best motorcycle gloves I have had in over 35 years of riding !!!

Best Gloves

Posted by Ed J on Sep 6th 2009

The sizing template works perfectly and I received an almost custom pair of gloves in just a couple of days. There is a somewhat tacky feel to them that makes it easy to do things that can't be done with other gloves such as loop my helmet strap.

Many Miles on These Gloves

Posted by Infidel on Jul 21st 2009

OK, I bought these spring of last year. They were the 8th pair of gloves I bought as I couldn't seem to find a pair I liked the feel of. These are by far the best gloves I've worn in 25 years of riding. They are medium weight, wouldn't help when it drops below about 55 degrees, but they aren't too much even in the heat of summer in the deep south, where I've done a lot of riding. I've in fact "dropped" them off the bike a few times and have gone back to search for them on the side of the road since I don't want to be w/o them. They did bleed severely the first major rain storm I rode through, but after a few months they were fine. If I lose them I'll not hesitate to buy another pair. GREAT PRODUCT!!!

Best gloves in 30 years of riding

Posted by Wilbur Hickman on Jan 25th 2009

Without a doubt, these are the best gloves I have ever owned. Super soft and flexible,strong and gorgeous. I was a little apprehensive at first to invest this much money into a pair of gloves, but, now that I own them I can understand the old adage of "you get what you pay for". My only niggle is perhaps the sizing is a bit large. I always wear an XL so that is what I ordered and they are just the smallest bit too large, something I can overlook as the rest of the glove is fabulous. I am even able to reach into my jeans pockets and retrieve change. Now that is a glove.
Find Similar Products by Category